Age Minimum (with Adult): 10+, Minimum Age:18+
GAC: Clean Slate on Hwy 78
Saturday, May 29, 2021
9am-11am
Oakwood Windsor Elementary School
3773 Charleston Hwy, Aiken, SC 29801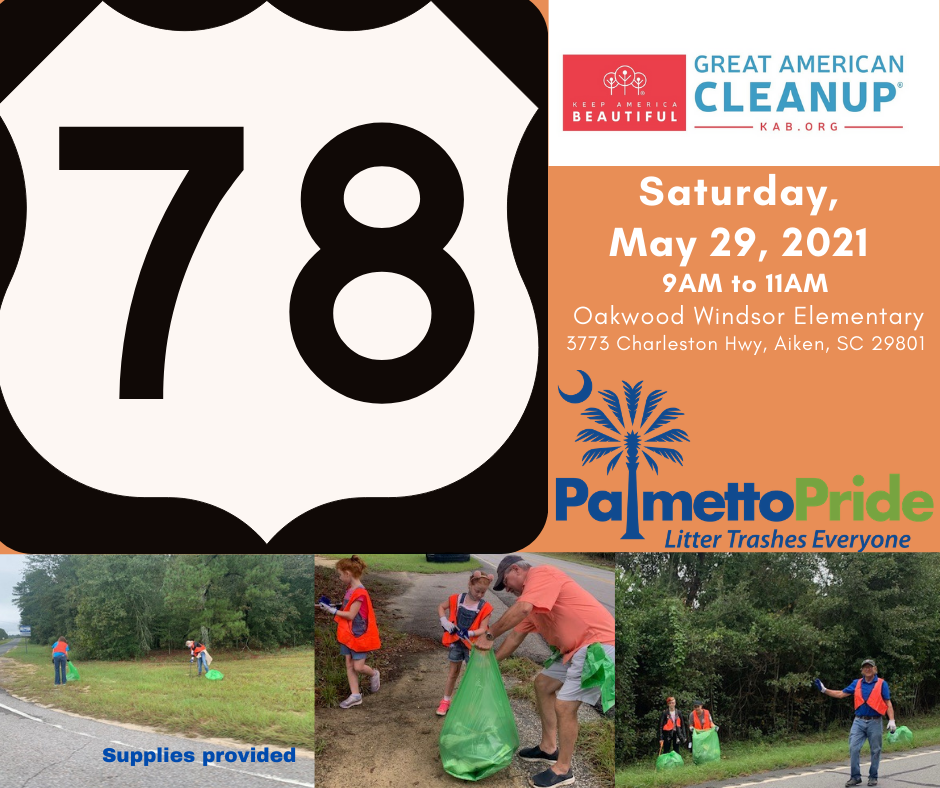 This is our last big cleanup during the 2021 Great American Cleanup season!
The goal with this cleanup is to get as many people out to pick up litter on as much of Highway 78/Charleston Highway as possible in a two-hour time frame. This cleanup will take at least 100 volunteers.
This cleanup is perfect for teams such as fraternities, sororities, churches, teammates, civic groups, social clubs, and neighborhoods. Volunteers can sign up as teams, create a team name, select their pick up location on Highway 78 and once registered, pick up their trash bags, safety vest and other supplies before the cleanup. Supplies will be distributed during the cleanup at Oakwood Windsor Elementary School for people that did not register ahead of the cleanup or did not register as a team. Law Enforcement will be present to help keep volunteers safe.
*If you sign up as a team (10 or more people) please contact the program coordinator at KACB.aikencountysc.gov to get your special location for the pickup!
Volunteers are asked to drink plenty of water, wear long pants and sunscreen. Closed toed shoes are required. Remember to always walk facing the traffic.
Volunteers are asked to follow social distancing guidelines and wear a mask during check-in and supply distribution.
*In the event of inclement weather the cleanup will take place Saturday, June 5, 2020, 9am-11am.
Please wait...
Log in or Register
In order to register for this opportunity you must log in to an existing account or register to create a new account.
Signup with team
This link allows you to participate in this opportunity with a team. When you click on the link you will have the option to:
Choose an existing team you're already a member or captain of, or
Create a new team to sign up.
Signup Questions
Please respond to the following questions in order to signup for this opportunity:
Please wait...
E-mail