Age Minimum (with Adult): 16+, Minimum Age:18+
Augusta is Worth Running Plog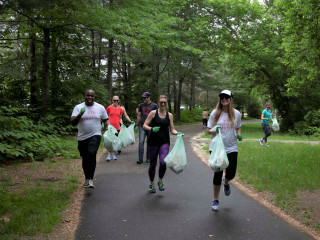 Join this national initiative to clean our community while exercising. Plogging is the environmental fitness craze that combines jogging or walking with picking up litter. It's intended to heighten awareness about the benefits of beautifying our communities, eliminating litter, and recycling.
We have a list of local areas that need attention. Express your interest, and we'll contact you to complete your registration and send your volunteer kit with a t-shirt, gloves, bag, and litter grabber.
If you are part of a running group, sign up your group!
Reporting is required after cleanup is complete.
Please wait...
Log in or Register
In order to register for this opportunity you must log in to an existing account or register to create a new account.
Signup with team
This link allows you to participate in this opportunity with a team. When you click on the link you will have the option to:
Choose an existing team you're already a member or captain of, or
Create a new team to sign up.
Signup Questions
Please respond to the following questions in order to signup for this opportunity:
Please wait...
E-mail