Opportunity Details
Trash Bash at the Border: Keep AIKEN County Beautiful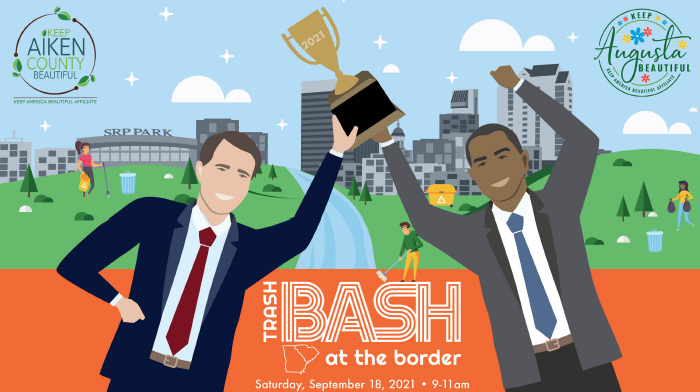 Are you a UGA or USC fan?
Show your love to your favorite team by wining this year's first river battle cleanup!
We'll be picking up litter along both sides of the Savannah River.
Mayor Davis and Mayor Williams have challenged each other! The Mayor's Cup is on the line!
Volunteers from both states will compete for bragging rights and prizes.
The first 50 people that sign-up will get a Carolina Trash Bash at the Border t-shirt, and all participants will enter a raffle for prizes.
Go Dawgs! Go Gamecocks!
Trash Bash at the Border 2021
Join us for friendly competition with our neighbors across the river!
Saturday, September 18, 2021, 9am-11am
Keep Augusta Beautiful and Keep Aiken County Beautiful challenge one another over which county can turn out the most volunteers and clean up the most trash in an event to raise awareness about litter, illegal dumping in and near the Savannah River.
Don your favorite Carolina shirt and come out and represent your team while helping to clean up the Savannah River and surrounding land.
Volunteers from the Carolina side of the river will meet in the North Augusta Area.
Volunteer registration:
North Augusta Riverfront Amphitheatre
1009 Center St, North Augusta, SC 29841
(Near SRP Park)
All volunteers will be required to sign a safety waiver on event day during volunteer sign-in. Cleanup supplies will be distributed during volunteer check-in.
Volunteers are asked to wear a mask during volunteer check-in. Hand sanitizer will be available.
Please signup using your email address so you can receive important pre-event information and updates.
Cleanup by Land
Complete the online volunteer registration. Please include your email address so you can receive updates.
Border Bash day put on your favorite Carolina shirt, closed toed boots or sturdy shoes you are willing to get dirty and long pants.
Cleanup by Water
If you plan to cleanup on the Savannah River, you MUST provide your own watercraft and agree to adhere to all water safety guidelines, including the proper wearing of a life vest during the duration of the cleanup.
If you plan to cleanup by water, you will be required to participate in a special water litter pick-up safety briefing 15 minutes prior to the cleanup and sign a liability waiver.
**Motorized water craft must have appropriate registrations/permits.
**Only persons in your family or on your team will be allowed to get on your watercraft.
Savannah Rapids Kayak Rental is giving a special $10 discount. Use the following link https://kayakaugustacanal.com/ to reserve your kayak and mention Trash Bash at the Border to get this rate.
Join as a Team
Join the Cleanup as a team! Gather your friends, co-workers, family members, neighbors, church or civic group and work together as a team to beautify the community!
How does Teams work? Click Register as a Team. Create a team and add yourself as the team captain. OR
Join a team that has already been created. If you plan to join a team that has already been created, you must select that option and know the team name to complete registration.
Trash Bash at the Border! Which county will take the win? Will it be Aiken County or Richmond County?
Regardless of which side of the river wins the competition, we all win by having a cleaner community!
Sponsored by: The Keep Georgia Beautiful Foundation, PalmettoPride, Keep Aiken County Beautiful, Keep Augusta Beautiful, Aiken County and the City of North Augusta
Age Minimum (with Adult): 12+, Minimum Age:18+
Please wait...
Log in or Register
In order to register for this opportunity you must log in to an existing account or register to create a new account.
Sign up with a team
This link allows you to participate in this opportunity with a team. When you click on the link you will have the option to:
Choose an existing team you're already a member or captain of, or
Create a new team to sign up.
Signup Questions
Please respond to the following questions in order to signup for this opportunity:
Please wait...
E-mail